The Turks are among the greatest masters when it comes to jewelry industry, and among our people, has long been the trust enjoyed silver which is brought from Turkey and were affordable and high quality.
The status of Turkey as a jeweler country, owes not only its great richness but also the tradition that respect those who know how to make beautiful jewelry.
In this article we will try to give a few pointers, when buying gold and silver jewelry in Istanbul is in the question.
Firstly, be clear with yourself that the original Ottoman jewelry will not be able to find for coins. Often people who are willing to spend a little more return from Turkey with words that have purchased the original Ottoman jewelry for a few hundred euros.
However, at best, all they did buy is jewelry with the Ottoman design, which is perhaps the patinated to make it look older. It should be noted that this is not a fraud, because they tell you "original osmanli" and this is the original Ottoman design.
If you are a knowledgeable buyer and turn their attention that there is hardly a country that has so much jewelry that sells for centuries, they will be drawn with a charming smile and admit that it is really just an original design and that's sure been a little misunderstanding.
For example, just to get an idea how much a real Ottoman jewelry cost, plain gold ring from that time with a semi-precious stone is priced from 5000 to 6000 dollars.
Finding a gram of original osmanli gold for 15 – 20 euros are generally just that, stories 🙂
Then, witnesses how in Turkey you can find a gram of gold for 15 – 20 euros are generally just that, stories. If someone managed to obtain gold at that price, it is not only the quality but also its origin in question. The price of gold was fixed on the world market and if you visit the same online, you can check how much is the price. What is not fixed, is the cost of production,
and that is a manipulative area
.
If you buy in bulk, it is certain that you can agree on the price, and when they do not go a day in sales, jewelers tend to agree for the price of a some piece.
One extra tip, if you have more free time and you compare offers on a couple of places where you like jewelry but decides only shades, try to break in favor of one jewelry store or silver store. Namely, if you want more pieces of jewelry, take one and go to another long look around, if they notice that you have second thoughts, it is very likely that they will offer you a discount just to buy more jewelry with them.
Do not be surprised, in Istanbul are the colors on the price, so it is not rare to come across the green gold (pronounced Yéshil altin), red gold (Kirmizi altin) and even black gold (altin Sijah).
If you are looking for favorably
You're probably looking for the silver. Gumus Dukkani is the place where you can find gold-plated, silver and steel jewelry, with modern and oriental designs at reasonable prices. Ask what they currently have on discount because they have permanent campaigns and discounts, are located on the Fatih, relatively close to the Blue Mosque and this is their address:
Sofular Mah. Dolap Cad. Sefa Apt. No: 10 D: 4
Kiztasi / Fatih / Istanbul
You can also find them on the Internet.
If you are looking for luxury gold and silever
If you need some piece for important occasion, and you're tired of industrial jewelry, that are mostly found in the Serbian goldsmiths, we believe that you will manage on your own, but here are a few suggestions: Sevan Bicakci, more about it and address http://www.sevanbicakci.com/ and popular among the "elite" Alef http://www.alef.com.tr/.
This is a jewelry unquestionable quality, superior craftsmanship and design that you can not see every day.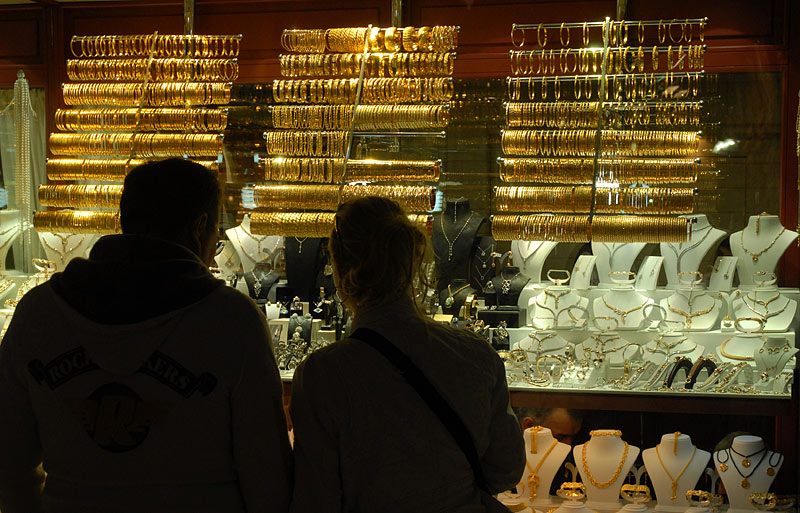 If you are looking for medium quality
Midfield would include a reasonable prices for good drafting, and for gold and silver jewelry proven quality you can visit Kuyumcu firsati. They are located in the old town Sultanahmet.
They offer gold and silver jewelry and clocks. Just like Gumus Dukkani, they have permanent actions and discounts. You can find them on the Internet and become familiar with the offer.
Here is their address:
Klodfarer Caddesi, No 4 D 302
Sultanahmet – Istanbul
Next would be Favori jewellry. This is a huge company that works in wholesale and retail, with gold and silver jewelry. It's not bad to check whether at the time of your visit falls on a public holiday, because their discounts usually centered around those dates, so you have discounts for Mother's Day, Teacher's Day, Father's Day, Valentine's Day and the like.
It would be best to check their Showroom located at Nurosmaniye 30 (near the Grand Bazaar) and get acquainted with best prices and top offers.
Also check our previous story: Cheap shopping in Istanbul – tips and tricks.
Recommendation
Summary
Ultimate guide about kinds of Turkish gold & silver and where to buy it. All other tips for best buying price for gold and silver jewelry in Istanbul.